The Artist will require the following:
• Access to the performance site approximately three to four (3-4) hours before the start of the concert.
• Sound: Depending on the acoustic properties of the venue, Liu Fang likes to perform without amplification (see stage plan B at the bottom of this page). Where this is not possible, and for all outdoor concerts, a professional sound system is required. The guzheng requires two (2) microphones and the pipa, one (1). See stage plan A below.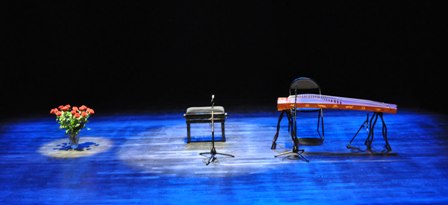 (Stage plan with amplification)
• Ms. Liu Fang performs seated. She requires two (2) straight backed chairs with no arm rests, or piano stools. The stools should be able to adjust to the height of 40cm (for pipa) and 44cm (for guzheng).
• A vase containing fresh red flowers should be placed on the stage (whenever possible).
• Lighting: Soft warm lights are required on stage, so that the audience is able to see the performer. A single spot light on each of the two performing positions and on the flowers on stage is preferable but not absolutely necessary.
• A private, quiet dressing room. The room should contain an ironing board. There should also be a fresh fruit platter containing apples, oranges, and bananas. In addition, Ms. Liu Fang requires one (1) litre of pure spring water without carbonation and glasses.