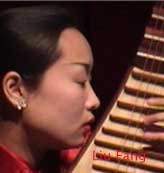 Though also used in ensembles, the pipa is mainly a solo instrument like a guitar. The traditional repertoire consists of ancient Chinese pieces whose composers are mostly anonymous, and the contemporary compositions by composers with both Chinese and western musical influences.
Traditional Chinese music mostly refers to the compositions that have stood the test of time and are likely to exists "so long as man can breathe or eyes can see". However, when talking about "traditional Chinese music", just like Chinese, it is helpful to keep in mind that China is made up of many peoples, each more or less with its own tradition and music. Strictly speaking, 'traditional music' refers to 'sophisticated' music (or classical music) as opposed to folklore. Traditional music in this sense is intimately linked to poetry and to various forms of lyric drama and is more or less poetry without words. In the same manner as poetry, music sets out to express human feelings, soothe suffering and bring spiritual elevation. (see the intervew article with Paula Kirman for more information.)
Most contemporary music for the pipa takes advantage of advanced pipa techniques and music theories. The sources of inspiration are rich and are mostly traditional and folkloric melodies. In fact many pieces simply modify, transcribe or rearrange these melodies and themselves become part of the classical repertoire like the famous Dance of Yi People(Wang Hui-Ran). The repertoire is further enlarged by pieces composed or arranged for duets in which the pipa is accompanied by cello, guitar, flute, piano or zheng. There are also pieces for pipa and orchestra. Famous pipa concerti are Little sisters on the grassland (Liu Dehai and Wu Zhuqiang), Mulan (Gu Guanren), and The king takes off his armour (arranged by Yang liqin, as well as by Zhou Long), etc.
Once the pipa was introduced to the west, its music began to fuse with western music. More and more composers with western music education background begin to explore new possibilities with the pipa, such as USA-based composers, Tan Dun, Zhou Long, Chen Yi. Recently, Melissa Hui, an accomplished Candian composer, composed one piece for pipa and string quartet and another piece for pipa and nine western instruments, both having been premiered by Liu Fang in 1999 and 2002.
Liu Fang concert live @ RTBF La Première (national radio)

Liu Fang concert live in St. Petersburg & the reportage from Russian TV

Some further topics: